Autistic Women in STEM: Q&A with Brooke Talcott
In part two of our Autistic Women in STEM Q&A series, auticon Data Engineer Brooke Talcott shares her path to a career in technology and her advice for other autistic women in tech. She also shares insights on how educators and employers can better support autistic women with an interest in STEM. For more on this topic, read our previous Q&A with Deployment Project Manager Kayla Aitken.
According to the U.S. Census Bureau, women make up nearly half the U.S. workforce but hold only 27% of STEM jobs, and they also face a persistent gender pay gap. For women on the autism spectrum, pursuing a STEM education and career may come with additional challenges, including limited access to autism diagnoses, educational supports, and appropriate workplace accommodations.
How did you first get interested in a career in STEM?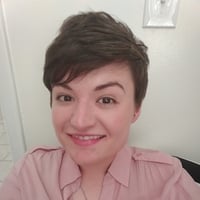 After high school I started working at a major tech company in customer service, and I worked there for a little over 10 years before coming to auticon. Through that time, part of my career growth was trying to identify what type of work would be most engaging to me. It gradually became clear that I had a knack for technical support work, and through that I gained different insight into things, like I realized I was great at pattern recognition. Eventually I saw a need and started programming to solve problems I saw in my day-to-day job, then found SQL and was surprised that I picked it up quite easily. I continued pursuing increasingly technical opportunities within my current role and others at the same company, and eventually I joined auticon to work full-time in a fully technical role.
What skills do you use in your work at auticon, and what do you enjoy about using those skills?
I recently worked as a Data Warehouse Developer for one of auticon's clients, a healthcare company, helping to build and maintain different areas in their data warehouse. Because the industry changes so much and so rapidly, there are always new requirements and new areas that need to be built out. Like maybe there's a new application that's used to help patients, and so we need to integrate the data and find ways to surface insights from that data, or maybe use them to facilitate billing and invoices. I love working within the data space because I'm really fueled by finding optimal solutions to problems and learning about new technology. There are a lot of different areas when working with data that I can do that in, like optimizing the technical execution, or improving development processes, or planning out the underlying infrastructure and architecture as a whole.
What advice do you have for other autistic women interested in pursuing careers in technology?
I tried to find an area of work that allowed my brain and focus to flow naturally and that's the path I've been following since. It took me some time to find the things that really interest me and kept me engaged, but a successful strategy I've found is trying to find an area where there's a really good complement to things that you enjoy and things that are in need by employers. Look for opportunities within your current role to strengthen your skillset in the areas you're interested in, and then look for adjacent roles that allow you to dive deeper even if they're not the perfect fit. I've found there are often ways to even slightly shape whichever job you're in to support continued growth in the direction you want, and the more you do that, the better positioned you'll be to make the next jump.
How can educators and employers better support autistic women with an interest in STEM?
I think it all ties back to having a non-traditional sort of background, where the college track wasn't the right fit for me and my experience wasn't always obvious on paper based on job titles. I would guess there's a larger proportion of autistic people who fit within that sort of space—where they might be targeting a certain career path from a different direction than the majority of people. I definitely feel that we need to make more space for that to be okay. People from many different backgrounds need the chance to show what they can do. The traditional path never felt realistic for me, so I'm really glad that I was still able to carve out a path for myself, and I want that for other people too.
If more places could adopt a similar onboarding and hiring process to what auticon has been doing, I think a lot more people would have a fighting chance. The onboarding process at auticon has been amazing. Having interview questions presented ahead of time is one of the easiest things you can do. And allowing people to demonstrate their talents before ruling them out is exactly what I needed the entire time. I'm so excited to have finally had that opportunity and work within the sort of job I've been dreaming about.